Several years ago I discovered a wonderful book by Joan Keener.  It talked about some of the amazing inventions that have been useful to all of us.  Things like the helicopter, snow shoes and knee pads.  It then goes on to say, "But God thought of it first"  and gives examples in creation that illustrate our Creator's genius.  For instance, the hummingbird can hover like a helicopter, the snow shoe rabbit has feet that work like snow shoes people use today and children wear knee pads that protect them from harm much like an armadillo's "armor".  Here is a recording of the book being read: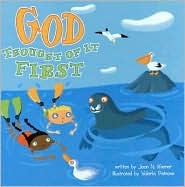 God Thought Of It First by Joan Keener
I think of this book and the concept it teaches frequently when I scroll through Facebook. I see people post quotes from various famous people.  Quotes that are meaningful.  Quotes that speak truths.  These quotes are uplifting to read and beneficial to learn from, but credit needs to be given where credit is due.  Anyone who has done much Bible study will know that the famous person who spoke the wise saying heard it first from God.
I had a "friend" on Facebook a few years back who did not believe in God but who regularly posted wise sayings from famous people…deep thinkers.  Every time I saw one of these posts, I left a comment that was a direct quote from God's word that said the same thing.  It wasn't long before I was unfriended.  She obviously believed the wise saying when it came from the mouth of a man but when it came from the Creator of man Himself, she didn't want to hear it.
Today I saw an article a friend shared about the three mantras that can help you get through any crisis.  The author was a well known new age author and speaker.  I read through the article and saw that, once again, someone was taking the truths of God's word and presented them as words of his own.
His first mantra stated that when going through a crisis begin with quiet awareness using meditation.  Using the quiet to bring more awareness will allow you clarity of mind to solve the problem.  Wise words indeed.  God inspired words very similar in Psalm 46:
God is our refuge and strength,
A very present help in trouble.
Therefore we will not fear,
Even though the earth be removed,
And though the mountains be carried into the midst of the sea;
Though its waters roar and be troubled,
Though the mountains shake with its swelling…
Be still, and know that I am God…
Who is to be our refuge and our strength? Who are we to look to when the world is falling apart around us? Not ourselves but God. We are to be still (quiet awareness) and know that God is who our strength comes from.
And as for meditation, while the author was suggesting that we meditate to find the answer within us, our Creator inspired these words in Psalm 4:
Hear me when I call, O God of my righteousness!
You have relieved me in my distress;
Have mercy on me, and hear my prayer…
Meditate within your heart on your bed, and be still…
I will both lie down in peace, and sleep;
For You alone, O Lord, make me dwell in safety.
Peaceful sleep during a crisis can only come when we put our trust in God. Meditating to find the answer within ourselves does not bring peace. True peace comes from meditating on and looking toward and seeking our heavenly Father.
The second mantra was about accepting change. Yes, things change in life but rather than just accept whatever comes our way, God teaches us that we are to change ourselves. We are to change our way of thinking, our way of acting and our beliefs to align with God Himself. We are to desire to be more like God each day. This kind of change is not going to just be content with whatever we are offered by the world. This kind of change prepares us for eternity. It causes us to look beyond this world. God inspired these words in Romans 12:
And do not be conformed to this world, but be transformed by the renewing of your mind, that you may prove what is that good and acceptable and perfect will of God.
The third mantra involves showing gratitude. Interesting that the gratitude was not directed toward anyone. With no one to direct gratitude towards, the only option is showing gratitude toward self. Yes, gratitude is essential for a happy, peaceful life but showing gratitude toward anyone or anything except the One who provides everything is futile. Showing gratitude or thankfulness to God for all He has provided is a natural reaction when we realize that we are totally dependent on Him for all we need and have. What an empty exercise showing gratitude without there being a recipient of that gratitude. God inspired these words in Philippians 4:
Be anxious for nothing, but in everything by prayer and supplication, with thanksgiving, let your requests be made known to God; and the peace of God, which surpasses all understanding, will guard your hearts and minds through Christ Jesus.
Once again, like meditating on God brings peaceful sleep, being thankful to God and showing our complete dependence on God by praying to God bring us the peace of God.
While the 3 mantras suggested in the article are based on truth, by leaving God out and filling the void with self a true solution to the crisis cannot be found. Looking to the true Author of how to handle a crisis instead of a man who attempts to solve problems on his own will bring the peace that is being sought.
The next time you see one of these inspiring quotes, pause a minute to consider if the author is speaking from his own original thought or if his quote comes from the inspired word of God.   Share all these quotes you desire but add a comment that gives credit where credit is due. Here is the article I referenced above: 3 Mantras That Can Help You Get Through Any Crisis