28
Jul
My grand parenting years have begun. I have one and one on the way. Since the birth of Everlee last October I have rediscovered my love of sewing. I have always loved to sew. The idea of taking a flat piece of fabric and turning it into something beautiful and useful gives me a lot of satisfaction.
I used cloth diapers with my first 2 babies but gave in to the ease of disposables by the time #3 came along. I always liked the idea of cloth diapers. The fitted ones looked so cute but they are so expensive. I didn't have the money to invest in a bunch of expensive cloth diapers. I never dreamed of making my own.
Things have changed. Instructions for cloth diapers abound on the internet. In fact, there are too many good tutorials and suggestions for me. I want someone to tell me what to do not 10 different options on possibilities.
I have a friend that I now call the cloth diaper lady. She used to own a diaper business so she knows it all. She brought me some fabric she had left over. This is not the kind of fabric I was considering using. I was going to use the only thing I know — what you can buy off the shelf at Wal-mart or Hobby Lobby. This fabric she bought is wonderful — organic cotton, flannel with a slight stretch, french terry. I am now completely spoiled and will never be satisfied with the fabric I was going to buy.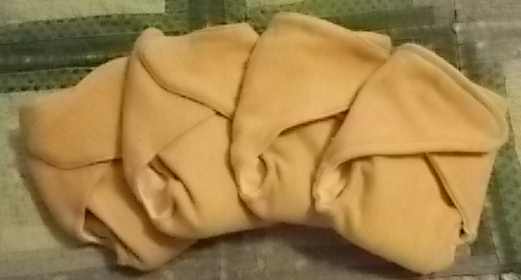 I made 4 fitted diapers today. It took about 1 1/2 hours. Not bad but I know I could do it more quickly once I figure out exactly how I want it done. These diapers do not have snaps or velcro. I think they'll fit the baby longer and better that way. We'll see how the new mommy and daddy like them.
Tags: cloth diapers, diapers